Size Guide
We never want to send you something that doesn't fit properly but it may be unavoidable because of slight differences in item sizing between manufacturers so we have size chart available on most of our product pages. To find out the size for any item, click on the size chart in its Product Details page.
You can be assured that items are consistent with our size chart with an allowable deviation of only 2 centimeters for our Baby & Toddler products, 4 centimeters for our regular selections for Men and Women, and 5 centimeters for our Maternity/Nursing selections.
For the best fit, we do recommend buyers to not base their choice on the size they normally purchase, but to use a measuring tape and compare your measurements with our size chart. When measuring around your body, such as bust, waist and hips, you want to ensure that it is as horizontal as possible. Ensure that the measuring tool is always close against your body, but don't hold it too tight. The general rule is close but comfortable - not tight and not loose. You may also measure a similar style of clothing you currently own, that fits you well, and compare which size it corresponds to on our size chart.
HOW TO MEASURE FOR BABY & KIDS?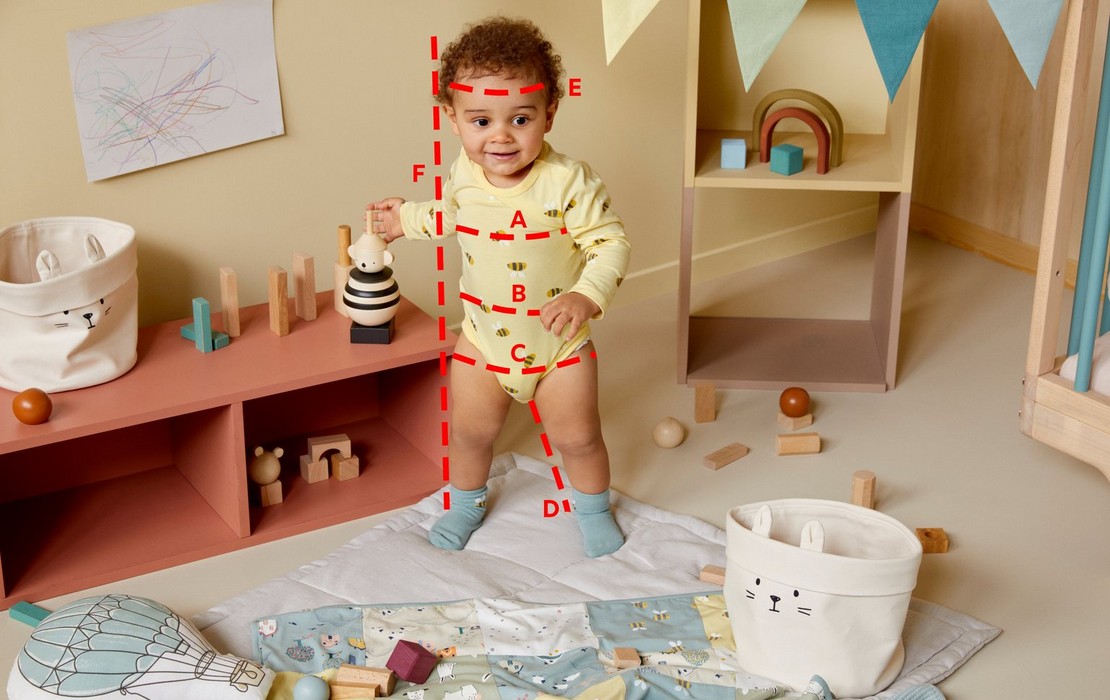 A: Chest. Lift arms and measure around the largest part of the chest.
B: Waist. Measure around the waist at bellybutton level.
C: Seat size. Make sure your baby's feet are side by side and measure around the fullest part of the seat.
D: Inner leg length. Measure the inseam of your baby's leg from the crotch straight down to the ground.
E: Head size. Measure the heads' circumference to get the right hat size.
F: Total height. Measure your baby from heel to crown, without the shoes.
While buying baby clothes is super fun, determining the right size takes a little bit of practice.

Since babies grow more in the first year than any other time in their lives, the general measure is determined by length and width. However, we know it can be tricky to know the clothes size if your baby isn't an average size.

This is why we created a baby size chart, as well as a handy measuring guide. They will help you understand the baby clothes sizes and guide you to buy the right products, regardless of the baby's size.
HOW TO MEASURE FOR ADULT?
Measure directly on your body. Measure your chest over the fullest part of your bust while wearing a bra that fits(a). Your seat measure should be measured around the fullest part of your hips. Inside leg length is measured from the crotch to the floor. Do not measure over other clothing.
a) Bust
*This is not your bra size!
*Wear an unpadded bra (your dress will have a built-in bra)
*Pull tape across the fullest part of the bust
b) Waist
*This is the smallest part of the waist
*Usually about 1 in. above belly button
*Keep tape slightly loose to allow for breathing room
c) Hip
*Find the widest part of the hips
*Usually about 7 in. below natural waist
*Tape should brush across both hipbones
d) Inside leg length